What can we help you with?
Account Management
You can still use the self-service filling station without an account, simply use your debit or credit card for payment.
Yes, you can claim the cost of the pure water as a business expense. If you are a 'Pay As You Go' customer without an account your receipt will be emailed to you each time you fill up. If you have an account with us then all your invoices will be logged under your transaction history.
There are no contracts with Spotless Water, you are free to use it as much or as little as you like.
Yes. You can track each individual key fob which will show you the user, how many litres were dispensed, the time and the site.
After you have setup an account you can then request your key fobs, you will need to create additional users to assign the key fobs to. While you are waiting for your key fob to arrive in the post you can use the sites as a pay as you go customer with your debit or credit card. If you need a key fob urgently, then let us know by calling the team on 0800 35 76 76.
If you go to the login page there is a button you can click for forgotten password, this will then email you a new one.
Pricing & Payments
It is completely free to both sign up and have an account with Spotless Water.
Key Fobs
Additional key fobs can be added at no extra cost. Simply email our customer service team and they will be more than happy to send you a new one.
Yes. An account can have multiple key fobs for multiple users. Each key fob is linked to the main account so other users can use the credit from the same account. The first key fob is automatically allocated to your account, then each key fob after that will need to be assigned to a staff members name on your account page.
Getting in Contact
Yes you can, and for each new referral we will apply £25 free credit to your account once they have used their new account and added credit to it.
Locations & Access
The filling stations have not been approved or built to standards for human consumption.
You can find gate codes and other information about the filling stations on the "Locations" page on our website. You can also call our team on 0800 35 76 76 for help with gate codes.
The filling station dispenses water at 100 litres per minute. There is a catch you can use to leave it filling bigger tanks with an auto cut off feature for when the water level reaches the nozzle.
We have heaters inside the filling stations as well as heated hoses to stop the filling station from freezing even in the coldest of winters.
The containers are designed to handle peak usage and while water is being dispensed more ultra-pure water is being created. The system is industrial size and runs far quicker & economically than those you would normally find in the back of a van or in a garage at home.
The minimum you can buy is 1 litre and the maximum is 10,000 litres.
It very rarely happens that a site is unavailable, but if it does, we have a team of engineers ready to fix any issue and get the station back up and running asap.
If you go to the login page there is a button you can click for forgotten password, this will then email you a new one.
Issues
Our team are ready to assist with any problems you may have, simply drop us a call on 0800 35 76 76 and we will be more than happy to help.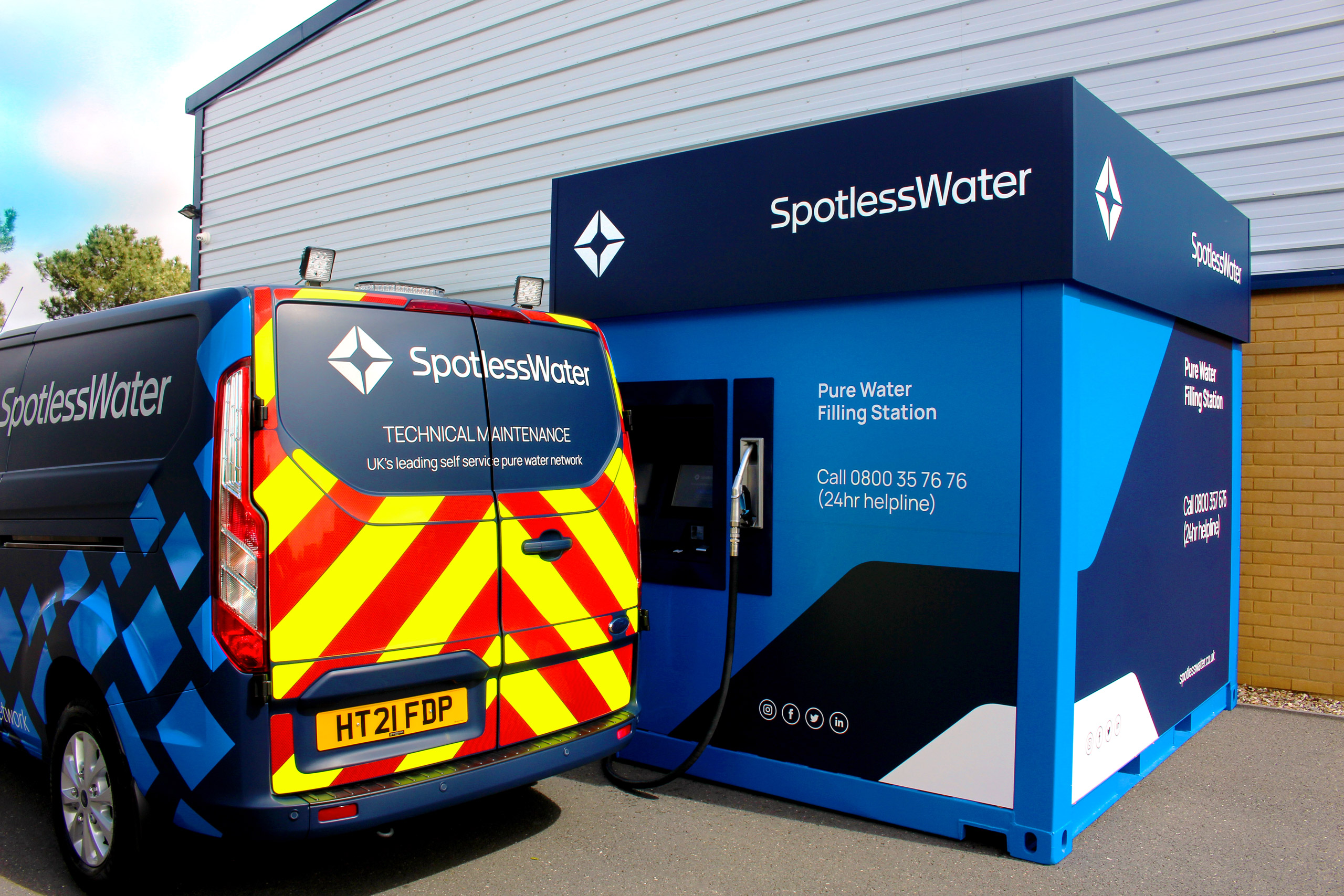 Still can't find what you
 are looking for?
Our support team can help, simply head over to our contact page, and a member of our team will be able to get back to you within the next 24 hours
Get in Contact